Why I Love Photography...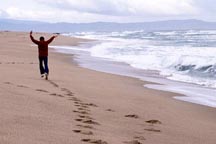 ---
The Most Important Question in Photography:
Everything I do in preparation leads up to putting my eye to the viewfinder. The process continues by allowing what is out there to tell me what it is, what is happening, and what kind of world it is in which I live and breathe. The only question of significance is, "What do I see...?"

This question has a two-fold emphasis: "What do I see..." - and, "What do I see...? Both emphases are at base the same. The I has to do with me discovering who is viewing the scene in question, what baggage I carry with me, or in the parlance of the photographer, what filters I have over the lens of my mind's eye?
What do I like and not like, and why? What are my feelings, preconceived notions, and opinions about what I see? Who told me this is good, or that bad? For whom am I doing photography? The answer to the latter has to do with whether I am doing this because I love it, and the images I capture are of my doing - or, am I seeking acceptance from whomever, and altering or weakening my work accordingly? To forfeit one's personal vision for the approval of anyone else is a serious thing for a photographer - for any artist...

The extent to which I eliminate the filters, or at least know which are affecting the image imprinting on my mind's eye, only then will I be free to see what is there.
| | |
| --- | --- |
| The question of what is out there telling me about itself, has to do with not imposing myself onto the scene, onto reality. It means being in a quiescent and receptive state, open to what is real and authentic. By being aware of my own filters, I am closer to reality, and the image I end up with, whether on a digital sensor or in my mind's eye, will be what is there and not of my creation. Why is this important? Simply because I will then see what is real, and capturing an image will be my work, and not someone else's... | |
---
---